How great can you allow it to be?
"It is not our dark that most frightens us, it is our light." Marianne Williamson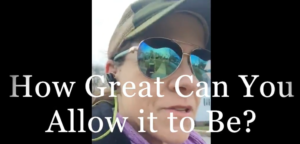 We are being guided to allow more greatness into our lives. 
Yet, are we subconsciously denying ourselves the greatness our heart and dreams desire?
Do we deny the growth and greatness by denying or avoiding our challenging experiences and circumstances?
Much of this growth and challenging experiences come through the relationships we have with others.  If we are courageous enough, we look within ourselves and we'll see how we're being shown the ways we are restricting ourselves from (more…)