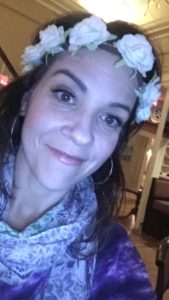 WHAT ARE YOU MISSING OUT ON BY HOLDING YOURSELF BACK, HIDING OUT, DIMMING YOUR SHINE?
Hey! Yeah, you – the one with all the magic, gifts, and talents inside.. You've been flying under the radar, hiding out.
Heads up – You are not going to be able to do that for much longer.  
I bet you even feel it – the ache, the urge, the deep desire that there is more.  There is more of what you have to share.  You feel the energy of it but you hold back or are held back.
Well, listen – I am SUPER PUMPED to be downloading this next group program. The title that initially came through – Remember Your Magic – is bouncing around and my mind is telling me its too 'woo woo'.
And just now I said, out loud to myself – "Whatever!"  Seriously, who is meant to come on this journey with me will FEEL the words, the energy, the intention that I am sharing.  Me mussing about the title is just a distraction from me sharing this.  

WHO am I to get in the way of what is coming through??
What about you?  Ever find yourself holding back because of the stories that pop up in your mind or the beliefs, doubts and fears that rise up?
You know you're meant to be showing up more but, you just can't seem to get past or move forward?
What I am talking about here is serious business! – because, it is not just about you.  It is about who you are meant to be serving, touching, exchanging, leading, healing, transforming, empowering, guiding.…
I get it – It can feel super fucking scary.  You know why?  Because you've been doing this work for lifetimes.  LIFETIMES.  Who you were and what you did – it wasn't so easy, acceptable, or supported in the past.
You might have even died over following your passion and doing your mission.
Perhaps you haven't felt a ton of support in this lifetime. Yeah?
Maybe you've been the odd one of your family.
Maybe you feel you just don't quite fit in.
You've been hurt by others.
Maybe as you're expanding into more of you and your life is changing…
It has all been intentional.
To keep you quiet.
To keep you small.
To prevent you from empowering and enlightening others.
To keep you from having the profound impact you know SO DEEPLY IN YOUR HEART that is what you are here for.
Right?
But, you're stuck.
It all feels hard and overwhelming.
You get in your own way.
You stop yourself.
You dim and hide your gifts.
You doubt yourself.
The fear feels like too much.
Yet, here is the thing… The inner nudge can no longer be ignored.  In fact, your body is likely giving you  signals.
Life is guiding you to show up more.
You touch peoples lives in just being who you are – in your home and through the way you move about the world.  You have an impact.
You share with small groups. Allow selected FEW know who you really are and what your talent is.
But, you have MORE of you to share – a FULLER way of showing up.  No more hiding out or hovering below the radar.  It is time for you…
I get it – I was there too. Life kept reflecting back to me, nudging me, guiding me to get out of my own way.  To OWN my truth, my gifts and surrendering to the energies ready to express through me.
Not living my full, authentic self made things hard, feel overwhelming – like I was being squished, held back, too hard to move forward.  My body slowed me down so that I could only be fully present to what was.  My mind made stories and created drama to distract me from my path.
I fought back because the alternative was not an option.
What other option do you have? (there really isn't one – you and I both know it).
I see what was happening and I am here to share with you a way through. To bring you through the process of reclaiming your essence.  And setting parts of you free from the inner limitations, patterns and cycles.
No more hiding. No more hovering.
You have an impact that ripples out to others – a family unit, clients, the world.
You've needed to create survival mechanisms to get this far.  But, you don't need them any more.
You'll be letting go of those too. 
Now it is time to remember and reclaim.
When you do…
Life flows much smoother, the support shows up, you're naturally in your element, you feel on purpose… You are doing YOU in your own way.
Isn't is time –
To get out of your own way and get on your purpose
To reclaim and set free the aspects of yourself holding the fears in place
To share more of your gifts and who you are
To spread your magic through words, work, love, presence, being, healing, creating, sharing
To live authentically, fully expressive and freely YOU.
The two week group program is held inside a secret Facebook group – link to be sent once registered.
There will be energetic transmissions, live streams, and posts all supporting, guiding, lightening the way for you to OWN it and SHINE through.
We begin 11/11/17 and finish up 11/25/17.
I feel the energy of it all…. Those of you who have been hiding out and hovering under the radar – I've got you!  Come on out.  Let's play!