Feminine energy has been rising globally at exponential rates.  Men are feeling this at various levels and haven't been given the support, permission, or guidance to integrate this energy.
Men, I want you to know it is okay – actually, it is imperative to your well being  –  to feel, to love, to be vulnerable, to have emotions.
There are many women holding space for you to come into your full self. To allow this integration. To allow the feminine energy to rise to clear all the shit out of the way in its path of you owning your full power.
It is impacting you on deep levels.  I see you pushing this piece of you down.  It holds SO much of your innate power.
There is more to life for you.  I know you want it too.
This video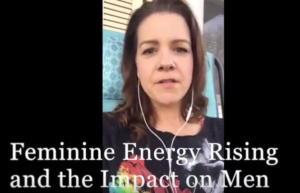 shares about how to allow this energy to rise within you and what is available to you and your life as you do. (so much more!)
Love, money, health…. When you harness ALL your energy, you are unstoppable.
When you stuff or push down the feminine energy that is rising, it is like denying your right arm or denying yourself oxygen.  This energy is absolutely a necessity to you.  Imperative to yourself and the world coming into balance.
Feminine energy is creative.  What are you ready to create?
If you are ready to create and claim more for yourself and your life… Lets make it happen.
The blog I refer to is here.
Thank you in advance for sharing this video with your male friends, partners, lovers, and those who love them.