---
You cannot hold back part of yourself without holding back other parts.
Is there something screaming to be liberated from within you?
Every once and a while my therapist would suggest I scream in my therapy session – to release what was being held within for years (decades, even).
A part of me knew screaming was a necessary channel to release. But, every time she invited me to liberate the energy I'd feel like my release would bring the two story brick building we sat in crumbling down.
It's like opening a closet door and all the contents would come flying out of control.
Until there became no other way and too much effort to hold it all in.
You see, life would manifest to trigger the liberation. Drama, trauma, chaos, betrayal… manifested to match the energy I held within. Life showing up for me to liberate and release what was no longer serving me.
Before I knew the circumstances were FOR me, my focus went to blaming the things outside of me. Trying to fix the circumstances. Not understanding the circumstances were a match to what was within me.
I was angry. Rage would explode out of me. My emotions like a wild rollercoaster. I didn't know any other way. I thought this was how life was.
I attended a Shadow retreat hosted by the late Debbie Ford. It wasn't in the course description that there would be a "rage" party at the end of the week.
We all gathered inside a huge open building. The lights were dimmed and we were given eye masks.
Very loud music was played while an assistant spoke harsh words over the loud speaker.
"You're not enough, you're worthless, who do you think you are, you're pitiful, you're a piece of shit…" and on.
It was as if they knew exactly what I'd been told, been taught who I was, and were running the background tapes from my mind.
The words came through and tore me apart from within. I couldn't hold it back any longer.
We were instructed to scream, flail our bodies, cry, do whatever we were called to. Anything but be still.
Still waters create algae.
Same with still energy.  Holding within what wants to flow creates stagnation.
When I liberated the pain, trauma and energy within, I liberated others parts of me I didn't have access to previously.
My heart, love, compassion, creativity, healing capabilities, confidence, ability to connect with others more deeply, more energy…
My energetic vibration was up-leveled. It, I was no longer being weighed down by the heavier things.
I was freer to be a fuller expression of myself and tap into who I am behind this physical experience.
As I liberated myself and the energy within,
– I became the healer I am today,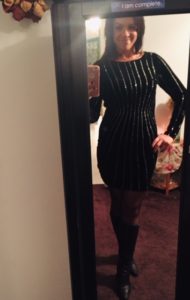 – I've created safe connections with people who adore and appreciate me,
– I've had the strength to do the hard things,
– I attracted up-leveled experiences that are a match to what is with me,
– I've done things I never thought I'd be able to do,
– I know how to navigate energy versus is navigating me,
– I aligned with my inner truth versus walking around with the constructs and programs placed on me by others…. and so much more.
As I've liberated some parts of me, I've liberated ALL parts of me.
Life is so much easier to be in flow as I'm not putting so much energy in trying to hold the closest door back from exploding open.
I invite you to explore where you're feeling held back, stuck, stagnant. To investigate, open up to the parts of you held back and ready to be liberated.
The desire is enough to get started. Life will show up with the opportunities. Say "YES" to yourself and what appears for you.
I am the Queen of My Universe group is open and members are already experiencing the magic and expansion the energy coming through is offering.
We'll be exploring together 21 days of unfucking your mind, releasing limitations, dropping into Soul, expanding your energetic vibration and taking your experiences next level.
This potent energy is coming through powerfully.
There are 4 BONUS 1:1 calls with me left. In your 30 minute laser session, you'll receive an intuitive reading, soul channeled insight and energy clearing to tap into your next vibration.

A VIP option is also available to receive an additional (to the bonus) 30 minute session and other bonuses that come through.

Doors close 12/5.  Register now to snag your space and bonus session.