Are there a couple of hard DECISIONS in front of you?
Different paths and completely DIFFERENT possible outcomes available?
NOT CLEAR what choice and it all feels pretty challenging?
Is your heart feeling a little TORN from it all?
You're likely looking at those decisions and choices and wondering…
"What is important to me?
What do I really want for myself?
Who is the person I want to be?"
There is something already there waiting to come through. You can feel it too. You want it but, you don't know how, you feel anxious, you want to know what is going to happen…
Much of that is through the filter of your shadow.
What makes life choices and next steps challenging is holding onto the shadow and holding back your authentic self.
It can be much easier.
What if you had all the different art tools in front of you and were told create what you want…
No limitations, no rules, just allow yourself to make the art…
Could you relax, have fun and see what comes?
Essentially that is what Soul Aligned Living is…along the way, the human personality got caught up.
The Art of Being You officially begins 10/1.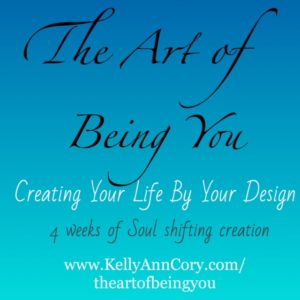 I'll be your Guide through your own inner exploration of the Art that is You ready and waiting to come through.
I'll reflect back your light and invite forth your dark.
Do you it can be easier?
This group is for those who are ready to…
– do what it takes to make the changes life is calling forth,
– are done putting off what you know needs to be done to have the life you say you want,
– surrender and allow the life you're ready to have, come through you.
No more stories.
Three key areas to focus on to create a shift –
Choice
Commitment.
Integrity.
Is life showing you it is time for a redesign?
For the first 7 who register, you receive a bonus, private 1 on 1 call with me.
These private calls take things next level. The value is $80. Your investment in the 4 week course – guided by ME – is $150. The value is insane, really.