---
Are you feeling like something is ready to change? 
Maybe you aren't sure what the change is but, you know something needs to shift.  You feel it stirring within.
Or maybe you know exactly what it is and want a Guide along your journey summoning forth that future self that already exists.
It's been quite the journey.  This 2018, hasn't it?!? 
Life a bit chaotic, HUGE changes, lots of uncertainty and healing.
You've released patterns, recognized your limited beliefs, you've dissolved past pains and now you're wondering:
"Who am I,
What am I here for,
What is next for me,
What do I really want?"
On October 1st The Art of Being You officially begins.
Together we'll explore the art of your life and what is ready to come through you and be the expression.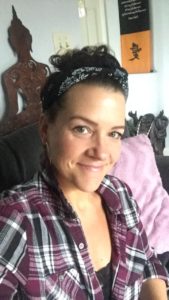 :: What is the art of your life look like? 
:: What could it become from your design?
:: What more is available to you?
You'll meet inside a secret Facebook group with other like-minded, high vibration members.
Through the course of the month you'll be prompted to explore through the downloads I post specifically for this theme and group energy.
You'll be supported as you go deeper exploring within, gaining clarity, and receiving inspired direction and next steps.
You'll learn about the energies moving through and how you can use them to integrate into the art that is you.
The practical pieces:
~ A minimum of 2 live transmissions where I'll channel insight and guidance about the energies specific to the group  ($111 value)
~ Throughout the month: energy readings, intuitive insight, soul guidance as you show up in the group, respond to the posts, and interact on the videos. ($240 value)
~ We start 10/1 and go through 10/31.
Total Value: $351
** Your investment $150**
(**this is an insanely reasonable price for the level of guidance and support you receive)
 BONUS:  The first 7 to register by October 3rd receive a 30 minute, one on one private session with me ($120 value). 
DOUBLE BONUS: refer a friend, they receive a 30-minute laser session too. ($120 value)  AND YOU receive an additional 30 minutes  ($240 total value)
** Total, Total Value: $471- $591  
I'm doing the numbers and thinking…What?!?!
This is trusting Soul and allowing what comes through.
It is a win/win for all; is how I see it.
P.S. I am capping the membership off at 17 this month.  The doors will close on 10/5/18.
Join me and a community of others who are creating life by their design. 
Discover what life of The Art of Being You is all about.
---
For more about my approach, check out my website
Or my YouTube channel