---
A distraction to your growth and expansion is when you become involved in the details of the chaos created to bring forth the annihilation of your limitations, fears, and blocks.
The chaos isn't a 'bad' thing.  It is showing you what you are aligned with and what you are available for.
The chaos is an indication you're going through an up level.
All the chaos is leading you and making available to you energy to use and create the changes you seek. #energyalchemy
Life is perfectly designed to bring you what you ask for – to guide you to be the person you say you want to be, and to align you with the love, money, business you desire.
But, you've got to let the chaos do its thing. Allow the limitations and fears to be annihilated, be guided into alignment with your vision, and become the person who lives this up leveled life.
New arrives through the annihilation of what no longer serves you.
The annihilation of the aspects of you that
abandon yourself,
keep yourself in victim mentality,
have you people pleasing,
don't allow your desires to be fulfilled,
are focused on lack,
are dragged down by fear…
These aspects must be annihilated for you to go next level. For you to be the person you say you want to be and live the life you say you want to live.
And, if you are here to bring transformative work to the world and guide others through their healing and next level, you've got to be able to hold the expanded vibration yourself.
When you alchemize the limiting aspects, beliefs, and fears, you become open to all possibilities – beyond what your limited mind was tuned into. You become empowered to make choices that bring you to the next level.  You remember how truly powerful you are.
It is not the other way around.
You see, you need to become the person first, THEN the experiences manifest and align to match who YOU are.
I've been annihilated so many times… I barely recognize my past self. If you knew me then, you don't know me now.
I've struggled my way through.  I've been pulled into the undertow of emotions.  I've gotten caught up in the chaos for hours, days, weeks, months.  I was stuck in patterns of pain and struggle.
I learned a way through.  An easier way.
I learned how to use the chaos showing up in my experiences as a guide to what I was in alignment with and available for.  I learned how to take the energy stirred up from the chaos, emotions, and pain and alchemize it for creation and my evolution.
I didn't always know these things.  I thought I was at the mercy of what was happening to me and working hard to resolve the issue at hand – the relationship, boss, bank account, body, etc.  I believed the answers and resolution were outside of me.  I sought and searched through the struggle – always knowing there was more and better available.
I never gave up on myself and I found my way.
I've transmuted the limiting beliefs of not being enough.  I've remembered my power and pulled it back from the people and things outside of me.  I alchemized my vibrational frequency beyond the trauma, heartbreak and pain from my past.  I learned to use energy to create.  I shifted my perspectives and my life changed.
If you are like me and know deeply more and better is available and possible for you, join me in a six week one on one journey of identifying your biggest block (shifting this shifts ALL areas of your life) and learning to use energy to create the shifts you're ready for.  No longer getting pulled into the chaos but, taking the chaos and directing the energy into creation.
6 weeks 1:1 – you and I, private mentoring, 24/7 access.  Me in your back pocket through your 6 weeks of evolution, change, and uplevel.  Click this link for investment information and to apply. 
Due to the level of support and energy exchange, spaces are limited. 
For the fierce Healer, Leader and Mentor ready to come out of hiding, stop flying under the radar, and align with the powerful aspects already within you to create the ripple effect you're here to bring to the world.
Empower is for you if you are ready to release the root fears that hold you back, alchemize the energy of your inner shadow aspects, transmute the underlying triggers that keep you trapped.
We'll fire your ego from working your spiritual evolution, healing, and expans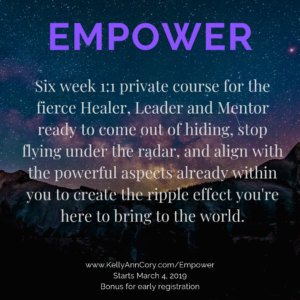 ion process.
We'll get to the root of your biggest barrier, block, and limitation that has been in your way and making things so hard so you can move forward with ease and allow in all you've been struggling to make happen for yourself and your life.
We'll clear out the energetic chaos, subliminal programming, and subconscious beliefs that have you anchored to your current reality and take quantum leaps into the experiences you've only tapped into through your dreams.
You'll have the clarity, confidence, and courage to take those next steps.
Because when you shift what is within, everything around you shifts to meet you there. 
It is already always happening. Is it time you took charge of what your experience looks and feels like?
Applications open on March 4th. 
Here is the link to apply and investment information.
Have questions? Message me through the link or hello at kellyanncory dot com.